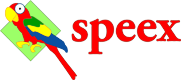 Ever since I produced the Ogg and Vorbis libraries, I have been receiving requests to compile other open source media libraries. I'd love to be able to fulfill all such requests but, unfortunately, that just isn't possible.
Today I am happy to be able to announce the availability of a precompiled version of Speex 1.2rc1 from speex.org.
Compilation
The library was compiled using Xcode 4.6.1 for the armv7, armv7s and i386 architectures.
Packaging
The libspeex.a and libspeexdsp.a along with the header files were combined into a pseudo-framework Speex.framework.
Testing
The decoder was tested on the iPhone simulator, running iOS 6.1, and on an iPhone 5, running iOS 6.0.1. The tests confirmed successful decoding; performance tests were not done.
The encoder has not been tested as yet.
Download
The pseudo-framework may be obtained from GitHub: IDZPrecompiledSpeex